The Golden Globe Race requires 10,000 miles of documented sailing before January 29, 2018, of which 2,000 are single handed.  Here is the planned training itinerary:
May 2016 – St. Thomas to the Chesapeake – 1,535 miles.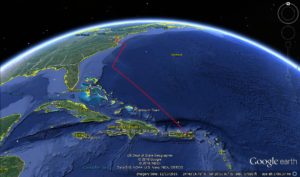 Preparing for the voyage from St. Thomas to the Chesapeake.  This will be our first ocean passage, and first single-handed sailing experience!  Anticipating the trip months ago was easy – now that it's imminent I'm a bit more nervous, and just can't wait to get underway.  I've decided on a course that keeps me a little closer to land but not coastal, and hopefully gives me the gulf stream advantage.  I'll attempt to hang about ten miles into the gulf stream for the free ride, but close enough to the edge that I can duck back out fairly quickly if things get rough.
This is what I've accomplished so far:
Secured a home for Jamma Jeanne at Fairview Marina in Pasadena, Maryland.
Purchased a new VHF Radio, Northern Horizon GX2200 with AIS and GPS, but expressly for the AIS feature.  It will replace the existing ICOM M504, which will be sold or possibly used as backup.  I will miss the Commander microphone of the ICOM in the cockpit, but I couldn't justify the $500 for the ICOM VHF with AIS, the MC506.  Had the existing commander mic been compatible, I would have done that.  Very sad that ICOM didn't have the wisdom to make their products more modular and compatible with each other.
Purchased a Davis radar reflector.
Rented an Iridium Go satellite phone.
Arranged for Jay Gallagher at Island Rigging to repair head, back, and bob stays using compressed cable, 50% stronger than the original.  Will have him hang the radar reflector while he's up there.
Secured a slip for two days in Crown Bay Marina to have rigging work done.
Registered EPIRB
Purchased Pilot book and charts for the Chesapeake
Conscripted shore team for daily check-in and emergency weather routing (Thanks Carl Huntley and Leah!)
There  is still be much to do before setting out:
Provisioning for five weeks at sea (expected journey is two weeks – using my magic safety factor of 2.5)
Flush, sanitize, refill water tanks and system.
Ensure fast and easy access to all through-hulls and acquire redundant plug set
Repair pinhole leak in dinghy
Outfit a complete ditch bag for dinghy (was unable to get a proper life-raft)
Acquire cable cutter (prepare for a however unlikely dismasting)
Secure interior for possible knock down or capsize
Set jack lines on deck and prepare redundant tethering lines on forward deck
Rig preventers
Repair wheel brake on helm, or otherwise jury-rig a reliable wheel holding system
Test backup tiller
Top hydraulic fluid on autopilot drive unit (and calibrate autopilot)
replace/repair spreader lights
Obtain foul weather gear
Download charts for Chesapeake for the Boating HD app on the Android Phone.
Inform insurance company of repairs and upgrades and location change.
Inform Sea Tow of trip and change of location.
Understand Clearing out process for St. Thomas and Clearing in for US
I already have so much to cart down on the next trip I'll need to mail a box in advance.  I'm just a little nervous about that as well.  Mail works pretty well, but if the stuff never arrives I'm screwed.
November 2016 – Chesapeake to St. Petersburg via Bermuda. – 2,100 miles.
January 2017 to June 2017 (at various times) – Circumnavigate Caribbean
in four sections: St. Petersburg to Virgin Islands, 1,300 miles,  then solo, Bonaire, Belize, St. Petersburg, for  2,200 Miles.
November 2017 – Florida to England – 3,900 Miles
Total 11,000 Miles, at least 2,200 solo.